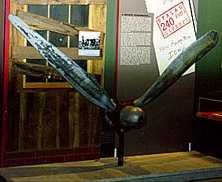 On 27 September 1943, enroute back to England after a raid against Emden, Germany a 91st Bomb Group B-17 nicknamed Local Girl was set on fire by an Me-109 fighter. Eight of the ten B-17 crew members bailed out, but only six survived. One of the survivors was the radio operator, Technical Sergeant Orlo Natvig. He landed in a small Netherlands town where the Germans quickly captured him. Natvig remained a prisoner of war until the end of war.
One of the propellers spun free from the crippled B-17 before the Flying Fortress crashed in a field. A German salvage crew found the prop struck in the ground on William Ritsema's farm, located a mile from the crash site. A blade broke off when the Germans attempted to remove the prop from the ground and they left the remainder where it was. Later, Mr.. Ritsema recovered the propeller and moved it to his yard.
In 1970, Natvig and another crew member visited the crash site and saw the prop. On several occasions he hinted, unsuccessfully, that he would like to have it. Then, in 1980, Mr.. Ritsema's son wrote to offer the propeller as a token of gratitude for what the Americans had done to free the Netherlands. After its arrival, Mr.. Natvig had the cherished propeller mounted in the front yard of his home in Iowa and, later, in Arizona. There the prop remained, a tribute to all former American prisoners of war, until his widow donated it to the U.S. Air Force Museum, in 1997.